A Financial and Environmentally Smart Alternative to a Coalescing Plate Separator in your wash bay.
Cost competitive Wash Bays
Saving Water & Money By Recycling
If you are not recycling your wash water you are wasting a lot of money because you are buying water, paying for pre-treatment of waste water for discharge and then all costs associated with discharging to the sewerage system. With the rising costs of water and sewerage charges the money you pay will increase every year as authorities are increasing their charges all over Australia.
After only a short period of time you actually make money as you have paid for your system through the simple savings of all those charges.
Suitable for Cars, Buses, Trucks, Transport, Heavy Machinery Companies, Mining Companies, Horse Washes or Mechanical Repairers – low to high volume capabilities.
Types of Wash Bays we design and provide
Hand Wash Bays
Auto wheel wash
Auto underbody/side wash
Heavy Duty Water Canons
We install & commission units onto your wash bay
You can start operating immediately
Your waste water is biologically treated & recycled
| | | |
| --- | --- | --- |
| CHARACTERISTICS OF SYSTEM | OUR MODULAR RECYCLE SYSTEM | |
| No sewer connection needed | | |
| | | |
| Reduced wet sludge removal | | |
| Can you maintain and/or service it yourself? | | |
| No chemical dosing required | | |
| Can the recovered water resource be reused | | |
| | | |
| System is designed and manufactured in Australia | | |
Wash Bay Treatment Options
All your waste water is biologically treated and recycled for reuse on the wash bay.
OPTION 1
Our most popular system is the single module bioreactor.
For average wash bays, we recommend our bioreactors. They are easy to install and maintain and are excellent for environmentally sensitive areas.
OPTION 2
Multiple modular bioreactor system to treat large water volumes.
You can simply add more modules to increase the capacity of your system. See the Great Value Modular System Wash Bay page.
Advantages of the Bioreactor
No trade waste inspections
More modules can be added to increase the capacity of the whole system
One module can be configured to treat 1500 to 3000 litres per day
Look what a difference a smart wash bay makes. Here on this site the heavily polluted water coming off the equipment runs into this wash bay beach pit.
That same filthy water is now clean and fresh and ready to be recycled.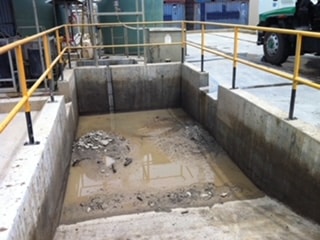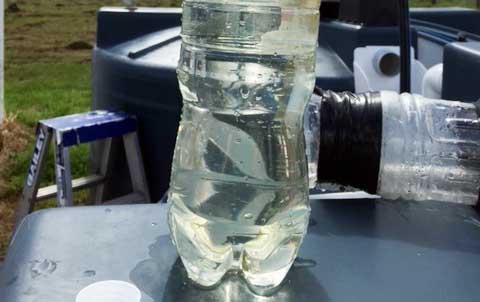 We know what works and what doesn't and that makes a huge difference for you as the system we install will work and it will keep on working as long as it's needed.